About
Sophie B. Olsen is an artist and author living in New England, USA. In her "real life" Sophie's been employed in the field of medicine for many years. Despite the fact she forbid them to do so, her three children grew up and got their own lives, freeing Sophie to return to writing, her first love, if you don't count bugs. Or fish. Or any of the many other scientific pursuits to which she's been addicted along the way.
She's written two novels and is working on her third, Law and Legend, as well as several short stories.
In her non-writing time, Sophie confesses to a love for all things geeky, including geology, biology, neuroscience, medical technology, ornithology, photography, and coding websites.
She's getting older every day.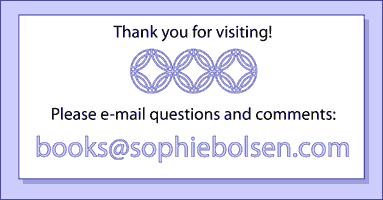 I apologize for not providing a "click to email me" link, every time I do I get spammed to death,
unless I use a "Re-Captcha"-type program, and since I can never read those stupid number / letter images,
I thought the picture-link you can read was the lesser of two internet-evils.
Thank you for visiting
Please excuse the missing pages and broken links
you'll find here during site construction.
It should be all finished by February 1st the time I die, so please visit again then!