Perjury & Prose
A Preview
If you pop over to Extras and vote for your favorite cover art, you'll be able to download a free copy of the whole book immediately- no strings or email sign-up required. Otherwise, don't get too attached to the preview! The book won't be out for another week!
Chapter 1: Poetry and Prose
Our freaky aging-hippie parents named my sister and me after writers, though neither of them wrote anything more exciting than Christmas cards. Didion's name has an extra oomph of irony since the writer Joan Didion did a not-so-flattering piece on 'sixties counterculture at the same time my parents were wandering the west coast pickling their own personal philosophies. Didion ended up an English professor, though, so maybe that one fits.
My name was even worse, paired as it was with an arty and alliterative afterthought of a middle name: Auden Jasper Jones. I hated it. I also found nearly every W.H.Auden poem raucously funny, robbing me of any ability to fake deference. I tried to avoid discussing him with the literati, but it's difficult to do when "Auden"'s your name, right out in front there. I should probably be thankful I didn't get stuck with "Frost" or "Ginsberg", but fantasized constantly about changing it to something softer and less striking.
State of Rhode Island form PC 8.1 hung permanently pinned to the bulletin board in my home office, all filled out except for the blank awaiting my new name. Thinking I should get one to go with my new life, I'd filled it out soon after leaving the hospital, but my new career caught up with me first and I got stuck with the original. I kept the form there for fantasy's sake.
Under "Reason for name change (be specific)", I wrote "I hate my name." If the State of Rhode Island and Providence Plantations wanted me to be more specific than that, there was room left over to add "and my parents are idiots".
Bert and Linda Jones aspired to an intellectual life far from their provincial Rhode Island roots, but childbearing came first. When mortality began looming large behind the shower curtain in the morning mirror, they found God more reassuring than Carlos Castaneda. After that, the Jones' spent their time repenting ancient acid-induced sins, preaching piety to those of us who hadn't seen the light, and hosting bingo nights in their plastic-clad living room. Family dinner was no longer my forte.
On State of Rhode Island form PC 8.1, "Petitioner's Marital Status" has "optional" next to it in parentheses, so I left that line blank, too. I hated checking off the little box next to "M". No one ever looked at it, anyway, so sometimes on forms at the doctor's office I checked the box next to "W", smiling secretly over my clipboard and it's captive, chained pen. I would rather have checked the "S" or the "D", but Brian and I were still solidly "M".
At first it was just easier and cheaper to stay married after our destinies divided. Ironically, Brian Jameson Lalique, once a sure bet to be a starving artist, became instead the proud possessor of a Blue Cross plan that paid out like a slot machine on steroids and Ecstasy. Giving lie to the adage that a liberal arts education doesn't pay, my not-ex-husband earned an amped-up salary teaching etching and 2D design to uber-serious students with trust funds and nose rings. It almost made me like all those Ivy League brats roaming around the East Side of Providence, gumming up traffic on my way across town.
So Jamie and I stayed on Brian's medical insurance. If we divorced, all the trickle-down trauma of my accident would morph into a pre-existing condition and I'd be stuck with a bottomless pit of bills for my plethora of prescription medications and periodic expensive head scans. So "M" we stayed.
"M" kept the whiny clinging wolves off my marital doorstep, too. I wasn't a "man-hater", per se, but I couldn't imagine wanting one of my own. I wanted to go home after a date- I wanted to be alone. Maybe it was a symptom of the brain injury or the mood swings that came with it, or maybe I was just an anti-social bitch, like Didion said, but I didn't want another person in my house. Even Jamie stretched my limited emotional resources. As much as I loved my son, the only reason I could cope with his incessant presence was that I travelled a lot. Road trips that other writers hated were a boon to my mental health. I wandered anonymous and silent through strange cities, loving the luxury of every effective "Do not disturb" sign. I locked my door, switched off the phones, and got more work done in those boring blue-and-beige hotel rooms than anywhere else.
Chapter 2: Sibling Rivalry
Evan and I arrived late for Didion's party, as planned, and I gave an imaginary work-emergency excuse. Two quasi-medical careers gave us an endless supply of one-size, no-muss reasons to show up late, leave early, and forgo all manner of social drudgery. Mutter "work emergency", invoke patient confidentiality, and you could get away with anything. Evan might refuse to lie, but I was an expert willing to take up the slack.
I bent to give Didion an awkward hug in her seat, waved across the yard to my mother, and headed off to join Evan, already grill-side with my father. Didion, surprisingly and spritely freed from the middle of the picnic table bench, waylaid me, yanking me furtively behind my mother's young ginkgo boloba.
"What the hell?" Didion used a big handful of hair to tug my head back to the position she wanted, so my glare was wasted on a faceful of leaves.
"What the hell, yourself?" One of her hands danced into view on my right side, dangling half a dozen string-like paper shavings in front of my nose.
I snickered and took them. "I had a date. He works at a print shop."
I swore I could feel Didion rolling her eyes as she groomed me.
"And you got paper in your hair how?"
"There were about fifty bags of shredded paper in the storeroom waiting for the recyclers to pick up."
"And…?" She let me go so I turned to face her, still swimming in endorphins and grinning frenetically.
"They're kind of like beanbag chairs- good to lean on."
"You're sick. Who?"
I thought about it.
"Damon? Damian? Something like that."
"Auden!" Didion's stage-whispered shout sounded genuinely shocked.
I exited the bush, murmuring over my shoulder. "What's the difference? I call them all 'Oooh, Baby', anyhow."
"You are sick." She called after me, louder this time.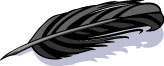 I joined my father and Evan at the grill. They'd already started handing out burgers and dogs, so I organized the bun-and-condiment line for all the little kids lining up as smells got juicier. Only a third of them were actually relatives, the remainder children of my parents' church friends. I got kisses and giggles from the ones I knew and polite hellos from the ones I didn't, who mostly trailed behind their parents, peeking cautiously up at Evan. The most dramatic reactions had fallen off a year ago, after the regulars got used to Evan and the contrasting colors of our couplehood and started to forewarn newcomers, stealing some of my pleasure in the process.
Evan smugly told me I deserved the let-down after having made fun of their faith and sincerity for as long as he'd known me, but I'd enjoyed watching the Bible thumpers trip over their own prejudices. My parents posse were Unitarian-leaning Church-of-God Bible-thumpers, not orthodox anything, and unable to reconcile a modern tolerant God with their own knee-jerk bigotry. So they struggled- conspicuously- for my entertainment. I was sad when it tapered off.
The thud of his giant feet popping my happy memory bubble, my son ambushed me, lifting me off the ground and shaking as I squealed and beat on his forearms.
"Put me down, you monster! Are you trying to give me another concussion?" Jamie, unimpressed by a trauma he couldn't recall, dropped me unceremoniously and came around for a quick hug and peck, his mind already off maternal affection.
"Mom, guess what Dad got?"
Brian, trailing along behind, shook Evan's hand and met my eyes, smiling at Jamie's enthusiasm.
"A Chinese slave-child to clean your room?"
Brian and my father made disapproving faces but Evan snickered and Jamie gave me a quick charity chuckle, probably hoping to shut me up. He was so excited he actually bounced, rocking up onto the balls of his feet. Sometimes he seemed much younger to me than his almost-eleven years.
"No, a puppy!"
I resisted the urge to flick a glare Brian's way.
"To clean your room?"
"Mom!" Jamie made two syllables out of it and I laughed, ruffling his hair.
"Okay… what kind of puppy did he get?"
"We went to pick it out this morning at the A.S-" He watched his father for reassurance as he slowed. "P…C…A." He beamed at me.
"Aunt DeeDee showed me what to look for and I picked a brown one who didn't even move when I pinched his toe! Dad says he looks like a German Shepard but I think his fur's too long and it's curly, too."
My sister mentioned none of this me, naturally.
"He's getting shampooed and groomed now and we get to go pick him up when we leave!"
"And…?"
He didn't get it.
"What did you name the not-a-German-shepard pound-puppy?"
"America!"
Expecting Buster or Rusty or some other dopey named-by-a-kid name, my eyebrows rose in surprise.
Jamie, awaiting my reaction, smiled triumphantly and explained.
"Because when he gets bigger he's gonna protect us just like our country does!"
I hugged him again while he squirmed, restraining an urge to correct the dropped "-ing" or offer a lecture on the Patriot Act and sixth amendment rights.
"That's awesome, kiddo. I love it!"
I started to ask if he'd like to go to the library for a dog-training book when he came home, but he ran off to rejoin the teen group looking cool by the basketball hoop at the end of the driveway.
Smiling less enthusiastically, I set my sights on Brian.
"You, too?"
He looked confused.
"Didion has had a case of puppy lust for six months now. I keep trying to talk her out of it. You know how needy they are, right? Your schedule doesn't matter at all to a dog."
Brian glanced in Didion's direction before meeting my eyes. "I've owned dogs before, Auden. I know how to take care of a pet, thank you. And did you see how excited Jamie was?"
I softened slightly. "Yes, well… he's wanted one for ages."
A lightning flash of epiphany improved my mood. "I just realized- now Jamie has a dog but I don't have the headaches! Thanks!"
Brian rolled his eyes theatrically, directing his parting comment to Evan, "That went a lot better than I thought it would!"
Evan was still laughing when I took my position next to him at the assembly line. He got along well with my not-ex-husband, despite his own social recalcitrance. Evan got along well with almost everyone when he made the effort, but normally preferred lingering at the edges to being near the center of things. Brian, on the other hand, when he wasn't being a contemptuous snob, was preternaturally cheery and gregarious, one of the many reasons our marriage dissolved. I'd heard it all from my family, but honestly had no idea what the pre-accident Auden had seen in him. We were nothing alike now.
Whatever else I felt for my estranged husband, I had faith in his ability to protect our son, so I relaxed and depended on him to keep Jamie in sight. My father's few extant relations were nice, average, fading old people, but I didn't believe in any such thing as "over-protective" when it came to my mother's side of the family, the backwoods-Yankee, white-trash equivalent of hillbillies. My purse stayed locked in my trunk when I went to parties with them and even then I kept an eye on the car. Reeking of rum, bong-water, or at least nicotine, none of them had ever been alone with Jamie or even been to my house.
I glanced around, getting waves from a couple of cousins and my Aunt Pauletta, another redneck relation from that side. I gave her a big glowing smile across the yard, waving enthusiastically. I hated her. My mother kept telling me how I loved spending the night at Uncle Frank and Aunt Pauletta's house when I was a kid, but I seriously doubted it had anything to do with them. My cousin Bethany was alive then- the light center around which my dull teenage life revolved. Her presence made enjoying those visits more than plausible.
I craned my neck to see my mother, sitting with another of her brothers. She was still a pretty woman, the rumored illegitimate Cherokee heritage showing in her features: angular cheekbones, wide forehead, and irises so dark you couldn't tell where her pupils started. What trickled down to me and Didion was just enough to give us black hair and Chinese eyes, but no casino money. Like our mother, we stood out.
I often wondered if that was the cause of the animosity I sensed radiating from my mother's kin, with their close-set blue eyes, washed-out brown hair, and non-existent chins. Even the women that married into the family had that look, like kicked cats hiding under the barn. Didion didn't feel it, but I had the benefit of my indoctrination being blotted out, so I saw them from a purely outside perspective. I did a good job pretending, Evan said, but I knew I wasn't part of that family.
Evan, my best friend, had consented to playing my partner in this faux-mance a couple of years earlier- when my mother had hypocritically switched from telling people I was still married to arranging ambush blind-dates for me at every family function. After grinding the fifth good Christian boy into disappointed dirt, I'd begged Evan to come be my beard. He was the only effective armor I'd found against overbearing pressure from my parents and their church friends and had the added benefit of a strict Southern Baptist upbringing and his own church family to fend off crusaders.
I elbowed him, "What about 'Brooklyn'?"
"What about Brooklyn?"
"It means 'new'. You know, for the new life…." I was still playing with the idea of a name change.
Evan leaned in to keep his voice low, raising an eyebrow. "'Brooklyn Lalique'? Seriously? Can you say 'porn star'?"
I wrinkled my nose at him, though he was right about Brian's last name messing it up. Spoil sport.
My father always ate before parties in order to keep the grill going for seconds and thirds, so eventually Evan and I took plates over to join my mother and Didion at a picnic table near the patio. My mother kept up a running conversation unassisted by us, though Didion and Evan tried to insert appropriate facial expressions and murmurs between bites. I ignored the babble unless I heard my name.
I loved my mother but often thought it was only because she was my mother. She wasn't as awful as her brothers or their wives, but we shared no interests or opinions. Most of the time I felt like I was play-acting the daughter role for her benefit alone, her love an obligation rather than a gift. After a while she gave up on our non-existent exchange, clearly satisfied, and took a circuitous route into the house.
I kicked Didion under the table.
"Powder your nose, Birthday Girl, your fifteen minutes of fame await."
Didion wiped her mouth on a paper napkin and smiled. Falling as it did on the verge of summer, her birthday had become a big deal. Coincidental or not, she got a huge cook-out every year and plenty of presents. This year was especially important to her as she'd just become the youngest person ever appointed full professor at her prestigious university. I smiled along with her ill-concealed anticipation. She deserved it.
I watched over Didion's shoulder as my father opened the back door, clapped his hands and started singing. My mother paraded slowly forward with the candle-laden cake as everyone gravitated in our direction and joined in signing to Didion. She glowed.
My mother carried the cake tilted away from her to display it and an ominous feeling filled me as she neared us. When my eyes sorted the problem out I wanted to leap from my picnic-table perch and run. Or smack my mother, maybe. She'd come up with the brilliant idea of congratulating us both with one cake- Didion's cake- cut and frosted in the shape of an open book to celebrate my recent publication. I watched Didion's face crumble in stages from true happiness through confusion, disbelief, and finally into pasted-on pleasure. I wanted to cry for her. She kept her eyes away from mine.
I barely heard my father's short speech in praise of his two brilliant daughters as I struggled with my own facade of family unity. Evan and I sat close together to maintain the pretense of couple-hood and he put his arm around my shoulders to comfort me for real. My parents were too obtuse to see their blunder, but he understood its impact. At the best of times I was a poor substitute for Didion's recollection of the sister she loved- this stunt provided an unnecessary surplus of resentment.
Jamie draped himself over my shoulder, taking my mind temporarily off my misery. Typical pre-teen, I hadn't seen him since the grill. Most of the kids wolfed desert and wandered away as Didion opened presents, but Jamie stayed until after she'd read the card he made her and hugged him tightly, laughing. Jamie made wonderful personalized watercolor cards for the top few people on his in-list, a talent everyone swore he got from me. The old, pre-accident, artist me.
Evan nudged me as Didion lifted the present "we'd" brought her. Brian, Jamie, and Didion knew he and I weren't really a couple, but Evan signed "Your Number Two brother-in-law" above his name on Didion's card as an inside joke. I secretly wanted my mother's nosiness to pay off in confusion if she snooped later, since Brian and I weren't actually divorced, but kept quiet for fear Evan would go buy another card. He was a lot nicer than me.
"Thank you." Didion tucked it back into the neatly-opened envelope and glanced at the front."It's 'D-I'-" she spelled out for me "-not D-E-E."
"Why would it be 'D-I'? That's 'Di'." I pronounced it "die".
"It can also be pronounced 'Dee'." Didion declared, putting the card on the table and moving a cup to find the letter opener she kept nearby.
"It's 'Di'." I persisted.
Evan elbowed me gently, telling me to let it go, but Didion didn't get the message.
"'Q-I' is pronounced 'chee'." She argued.
"So, for vanity's sake, you pretend the Chinese life force is more prevalent in twenty-first century American popular culture than Diana Ross, Lady Diana Spencer, and the Greek goddess of love?"
Didion paused in her precise dissection of my pretty purple wrapping paper and took a deep breath, ready to smash champagne over the hull and launch us into one of our epic arguments.
"Now, girls…" My mother intervened.
I stuck my tongue out and raspberried her just as Didion apologized.
"Sorry, Mom."
My mother smiled tolerantly at me and Didion's glance met mine with that familiar sharp edge of animosity. My stomach flipped.
Didion returned to her gift and acted pleased but the moment was spoiled. Why couldn't I ever just shut up?
I was still thinking about it when I carried an armload of plates into the kitchen ten minutes later. Evan scooped the rest of the discarded wrapping paper into the designated gift bag and followed me. He propped himself against the counter on my good side.
"Don't worry about it, Audi." Evan was the only one who ever called me anything but Auden.
I whispered. "Why can't I just shut up?"
Instead of spouting useless truths about the effects of severe head injury on impulse control, Evan related the reality self-deprecating habit had elbowed aside.
"The reason I know it's simple sibling rivalry is because you told me. Didion would feel the same whether you argued with her or not."
I made a disgusted face and went back to the dishes without comment, but I knew he was right. While I tried to stop blaming myself, Evan left to go hang out with Brian and the kids. I was interrupted by Didion herself, unaware of my upset and over her own. She took Evan's place to my right. By then it was automatic for everyone to stand where I could see them.
"What are you doing later?"
Didion was talking low, like a back-alley Bond girl, and I looked over, curious.
"Laundry, why?"
"Come over after supper?"
Rivalry or no, we were sisters and visited often. I nodded and began to speak, but Uncle Larry came in and she shushed me.
"What are the two most beautiful girls at the party doing in the kitchen?" He squeezed between us with his arms out for a double embrace, but we both knew what was coming. Didion spun away as I whirled quickly to put a pan in the dish rack, accidentally jamming it into Larry's solar plexus. That master's of science degree pays off in more than one way.
He was still doubled up listening to my apathetic apology when Didion opened the door and hollered for Evan to bring the kids inside. By the time Uncle Larry could breathe easily again, the room was filled with one large, watchful fake boyfriend and a dozen small children clamoring for ice cream. Didion and I exchanged a look as Lawrence excused himself.
My mother's brothers gave me the creeps. They all hugged like a New Year's drunk, too close and too many hands.
Not long after the kitchen incident, my mother joined Evan and me at a glass-topped table on the edge of the patio, where we sat sipping fake iced teas and surveying the kids' antics. My mother requested a moment of privacy and, after eyeing a question at me, Evan retreated to the other side of the patio to survey us instead of the children. Apparently, Lawrence complained to Theresa and Theresa to my mother, who now wanted me to apologize to Lawrence for elbowing him. I stared unsmilingly at her for a full minute, trying to decide if she really was that dense. Her guilelessness made me refrain from telling her off, but it wasn't getting Larry an apology, sincere or otherwise.
I darted a glance at Evan as I rose and he arrived at my side in time to see me don my brightest smile as I bent to embrace my mother.
"We had such a nice time, Mother. I'm leaving for those Denver seminars in the morning-" another in the long litany of lies I'd been slinging around all day. "-so I have to start packing now, but I'll give you a call next week. Be sure to tell everyone good-bye for us."
Taking the arm Evan proffered, I ignored her open mouth and wide eyes to go in search of Didion, Brian, and Jamie. I warned my sister shortly, in case my mother's plaints migrated to her and, with lots of meaningful eye contact, said I'd see her later.